Travel, training, and technology budget
Jump to navigation
Jump to search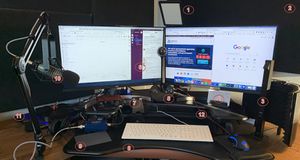 We want to encourage you to travel to relevant meetings and conventions, pursue continuing education and professional development, and maintain a state-of-the-art information technology work space that will allow you to work from anywhere. For these reasons, we have allocated an annual budget for travel, training, and technology. This budget changes from year to year and we will announce the budget periodically. We will also periodically grant wishes and award bonuses in the form of travel, training, and technology.
Travel: Normally, we do not require travel or have many travel requirements. Occasionally, when we are onboarding a new client or perhaps a new employee, we may need to travel to a location to get to know everybody and develop an initial bond that is important for a long-term working relationship. Rarely is travel mandatory. We also like to get together as either an entire company or perhaps just a team meetup from time to time to get to know everybody, unplug, focus on strategy, or solve challenges. Sometimes these retreats are domestic and other times international. Please keep you passport and visas updated and ready to go and let us know if you have frequent flyer miles with any particular airlines or hotel.
Training: We have listed the types of Certifications and qualifications that we seek. We encourage you to pursue professional education and will reimburse you for the fees, or pay for them up front, and as time-permits will give you paid time off to attend classes, study, and/or prepare for certifications.
Technology: We expect you to maintain a work station that will allow you to work effectively. This includes comfortable desk, ergonomic chair and keyboard, mouse and/or track pad, video conference system (camera, speaker, microphone), light to brighten up your face and smile when you hop on calls, sound proofing, and mobile devices (smart phone, tablet). We expect all information technology professionals to have and maintain this setup to work effectively. Please read our article on, "The Ultimate Work from Home Remote Desktop Setup."
Back to: Main Page