Blake Newman
Jump to navigation
Jump to search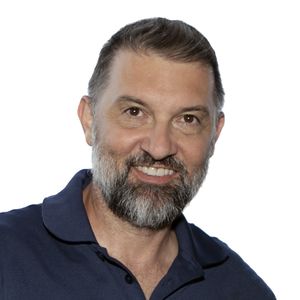 Current Job Title: Co-founder, Operations Officer, Finance Officer
Work Anniversary: 17 Oct 2007
Bio: Blake Newman is employee number 000 who has been with the company since before day one. He and Andrea started the business under its former name, inQbation, while living in Colombia, South America. Since then, they have relocated back to the Washington, DC metropolitan area and co-manage the company. Prior to Agileana and inQbation, Blake founded, developed, and sold photographer.com from 1995-2005. He has served in the military as an 82d Airborne Division paratrooper and Infantry Officer, departing the military at the rank of Captain. Newman has also worked at the Defense Information Systems Agency (DISA) and in the pentagon as a business analyst.
Location: Brambleton, VA and Culpeper, VA
Education:
Harvard Business School
The Wharton School at University of Pennsylvania
M.S. – Information Systems, George Mason University
B.S. – Business Administration and Decision Science, George Mason University
Military Science – Georgetown University Army ROTC
Certifications:
PMI Agile Certified Practitioner (PMI-ACP), Project Management Institute (PMI)
Certified CMMI Associate, ISACA
Project management, George Mason University
Entrepreneurship Essentials, Harvard Business School
Leadership Principles, Harvard Business School
Leadership and Management, The Wharton School
Leadership in the 21st Century, The Wharton School
Managing the Global Firm, The Wharton School
Managing and Motivating Talent, The Wharton School
FastTrac TechVenture Program, Kauffman Foundation
Infantry Officer Basic Course (IBOLC), US Army, Fort Benning, GA
Primary Leadership Development Course (PLDC), 82d Airborne Division, Fort Bragg, NC
Basic Airborne Course (BAC), US Army, Fort Benning, GA
Dominant hand:
Left for fine-motor skills
Right for gross-motor skills
DISC Profile: DI
D - Decisive: Tend to solve new problems very quickly and assertively. They take an active and direct approach to obtaining results. The key here is new problems such as those that are unprecedented or haven't happened before. There may also be an element of risk in taking the wrong approach or developing an incorrect solution, but those with a High D score are willing to take those risks, even if they may be incorrect. Direct in communications, no ambiguities. May be perceived as somewhat egocentric by others. Very decisive and a risk-taker. Demand high levels of results or performance, in self and in others. Great source of innovation and new solutions, even if radical sometimes. Migrate towards difficult assignments and opportunity for advancement.
I - Interactive: Tend to meet new people in an outgoing, gregarious, and socially assertive manner. The key here is new people whom one hasn't met before. Many other styles are talkative, but more so with people that they've known for some time. The Higher I scores are talkative, interactive and open even with people whom they have just initially met. People scoring in this range may also be a bit impulsive. Generally speaking, those with the Higher I scores are generally talkative and outgoing. At times, desire to express your opinion and interact with others may come across as self-promoting by the quieter people. Really like meeting new people and easily interact. No one is a stranger. Very enthusiastic in working with others. Gregarious and outgoing with most everyone. Can be extremely persuasive.
Astrological sign: Leo
People born under the sign of Leo are natural born leaders. They are dramatic, creative, self-confident, dominant and extremely difficult to resist, able to achieve anything they want to in any area of life they commit to. There is a specific strength to a Leo and their "king of the jungle" status. Leo often has many friends for they are generous and loyal. Self-confident and attractive, this is a Sun sign capable of uniting different groups of people and leading them as one towards a shared cause, and their healthy sense of humor makes collaboration with other people even easier.
Chinese Zodiac: Dragon
A powerful sign, those born under the Chinese Zodiac sign of the Dragon are energetic and warm-hearted, charismatic, lucky at love and egotistic. They're natural born leaders, good at giving orders and doing what's necessary to remain on top. Compatible with Monkey and Rat.
In 3 words:
Demanding
Driven
Diligent
Back to: